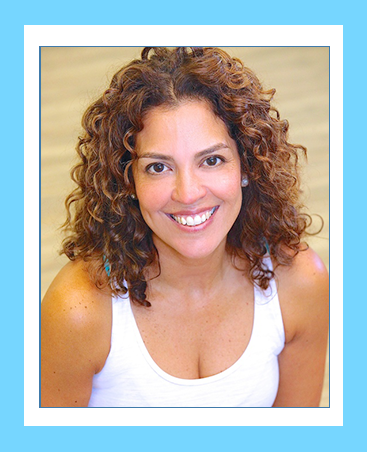 Emily Miranda-Thompson has more than 15 years of experience providing individual and group instruction in the areas of Pilates, yoga, personal training, cycling, and pre/post natal fitness.
Growing up in Puerto Rico, personal training was more than a hobby for Emily, but her priority was obtaining a degree in business and pursuing a career in finance.  In 1996, Emily left Puerto Rico to work in New York City, where she was a financial analyst at the subsidiary of a Fortune 500 company.   Although she enjoyed her job, it did not provide the same level of satisfaction as she derived from helping people get healthy and fit.   So, despite the long hours in the office, she made time on nights and weekends to maintain a small practice providing personal training.  
After the birth of her second child in 2003, Emily recognized she could no longer maintain a demanding full-time job and moonlight as a personal trainer.  Walking away from the corporate world, she followed her heart into personal training.  Expanding on the experience she had already accumulated, she completed a comprehensive training program in Pilates. Within five years, she had built a budding business in Brooklyn.  But, raising children in New York City had its challenges, and in 2007, Emily and her family moved to NJ.
In New Jersey, Emily rapidly built an extensive client base. Her personal experiences as a distance cyclist who has completed numerous century rides, as a commuter struggling to stay fit while working long hours, as a mother who has delivered three children, and as someone who has struggled with lifelong back pain, Emily was able to identify with people with a range of strengths and fitness challenges. Triathletes, young people, parents, and adults recovering from injuries have all found in Emily someone who is uniquely effective in helping them realize their fitness goals and stress-management. Now, Emily is relocating to Washington, D.C. and we at nutritopia can't wait to work with her!
Certifications:  Certified Pilates Instructor (mat and all apparatus), PhysicalMind Institute; ACE Certified Personal Trainer; Registered Yoga Teacher, Yoga Sutra for Life; Integrative Nutrition Health Coach; Spinning Instructor; AFAA Pre/post Natal; Booty Barre; Zumba Certified; CPR and First Aid for Adults and Children
Hobbies:  Long distance cycling, reading, photography, spending time with my three kids